Custom Publishing
Publishing solutions for positioning, profit & prestige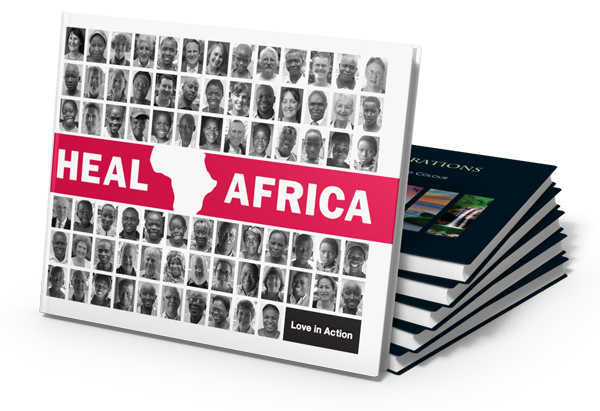 Fontaine Press is an independent book publisher that produces quality books for the Australian market and beyond. We offer a complete custom publishing service, working with business and organisations to produce a range of products, from small promotional paperbacks right through to beautifully bound full colour coffee-table books. Our varied publishing solutions are perfect for corporate promotionals or manuals, charity fundraisers, targeted consumer product promotions & tie-ins.
The marketing impact and staying power of words and images printed and bound between covers cannot be underestimated in today's media saturated world – our tailored publishing solutions will ensure your message stands out in the crowd at a cost to suit any budget. Contact us for further information.

Some organisations we have developed successful publishing solutions for:
Australian Defence Force
Australian Liberal Party
Avon Valley Tourism Association
Baker & McKenzie
European Commission
Fertility Society of Australia
Grey Healthcare
Hantec Markets (Australia)
Royal Australian and New Zealand College of Psychiatrists
Melbourne International Film Festival
Shire of Wagin
The University of Newcastle
The University of Western Australia
Western Australian Government
Need Content?
Fontaine offers unique 'pre-baked' publishing solution for businesses who would like to:
Rocket sales
Promote a new product
Extend brand awareness
Increase buyer spend
Reward customer or employee loyalty
Add value to your product or service

These can be achieved by partnering with us: we can delve into our extensive back catalogue of unique fiction & non-fiction titles to find the most perfectly suited title to customise and tie-in with your next campaign or promotion. From slapstick humour, informational guides, travelogues, nutritional and wellbeing titles, right through to poker, tea, and relationship guides, these are products that can be produced quickly as they are already 'pre-baked', and are surprisingly economical. Contact us for further information.

Case Study A

AUSTRALIAN DEFENCE FORCE
Fontaine Press was contracted by the Australian Defence Force to publish a number of high quality full colour coffee-table photographic titles which included hardcover books for Overwatch Battle Group stationed in Iraq, Third Mentoring Task Force, Afganistan, Battle Group Tiger, East Timor and HMAS Toowoomba. Designed and published by Fontaine Publishing Group, these titles were successfully produced with strict deadlines and fast turnarounds, within unique and challenging communication environments.
"Thank you very much for all your hard work with publishing our coffee table year book. We are all very happy with it, fantastic result!" - I.M. Ingham, Commanding Officer, HMAS Toowoomba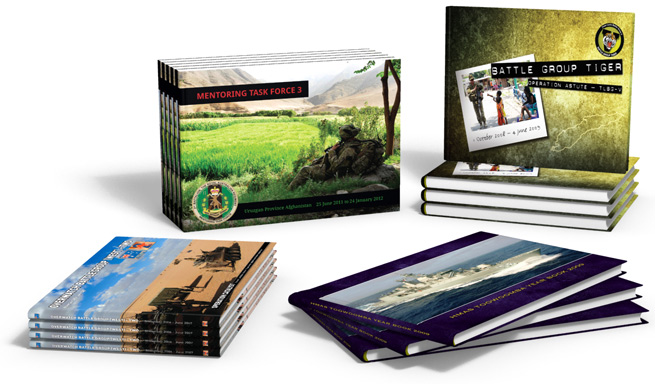 Case Study B

MELBOURNE INTERNATIONAL FILM FESTIVAL (MIFF)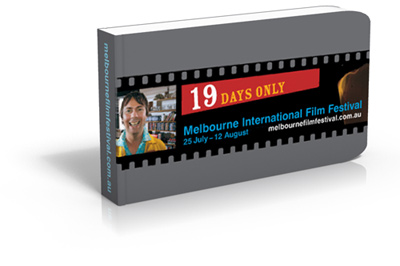 MIFF Marketing required a VIP promotional tool that would be funky and memorable. Fontaine Press designed and produced a fun promotional flipbook that captured the MIFF Trailer's video action as a sequence of individual 'slides' and printed these consecutively in a 96 page full colour business card-sized perfect bound mini-book. When 'flipped'' the movie video was recreated in the hands of the 'flipper', amid a chorus of 'ooohs' and 'aaaahs'.

"Hi guys, thanks so much for all the effort you put into the MIFF flipbooks. Everyone in the office thinks they are adorable! They're a really special item ..the overall cuteness of them : ) Many thanks again for making MIFF a little bit more special." - MELBOURNE INTERNATIONAL FILM FESTIVAL

Case Study C

Love in Action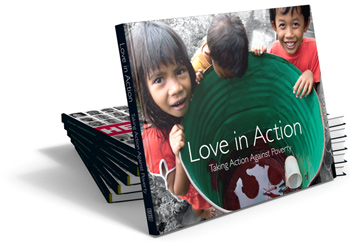 Manly-Manado is a Community Partnership between Manly in Sydney, Australia and Manado on the Island of Sulawesi, East Indonesia. Manly-Manado exists to help transform lives out of poverty that exists within Manado. It empowers people to personally take action against poverty using their passions and talents and tangibly affect someone in a specific community.

The fruit of this combined action has benefited some 6,000 people in Manado through a myriad of development projects, run by development partners, resulting in many transformation stories of residents in both communities.

One of these contributing projects was the development of a high quality coffee-table photographic book designed to generate significant revenue for the charity. As well, and of equal importance, to create a high level of awareness of what can be achieved by ground level support which directly benefits poverty-stricken communities. This would be possible via media coverage and book sales.

"The books were so well packed that it took some effort to get them out, but the effort was well worth the wait. The smell is something that hit me first. The freshly dried inks from the press. Then came the emotions. Joy and relief. The book looks fantastic!"
- Stu Harris, photographer.

Fontaine Press' custom publishing division Vivid Publishing worked closely with the Manly Manado's Stuart Harris to create a publication that successfully achieved it's overriding objectives: "The final product must have the highest possible perceived value, and the images and words must have a powerful impact upon the reader, promoting a call to action to take part in future charitable ventures."

Through the implementation of smart design, appropriate choice of quality paper stocks, together with high quality printing and binding, the images and words professionally presented in a quality hardcover publication achieve the objectives in a way that simply wouldn't be possible with other printed or digital mediums.

Healthy sales of this book have generated significant profits which will be donated to the Manly-Manado Charity. The money raised will support work and a capital project to build a well to supply fresh, clean water for the people living in Manado. The hugely successful book launch and subsequent media coverage and book sales have all contributed to a heightened level of awareness about the charity's plight.
Case Study D

Avon Valley Holiday Planner
Full colour promotional book commissioned by Avon Valley Tourism Association. Delivered from concept to printed product within 2 months.

"Hallelujah! The end result is a superb promotional product for the Avon Valley, and Fontaine has done an absolutely amazing job. My very sincere thanks, I couldn't have wished for a better outcome. It has been a lot of hard work, but worth it in the end!" - Wendy Williams, Chairwoman, Avon Tourism.